Joe Biden's inauguration doubled as a fashion event as well. Colorful monochromatic looks from President Biden's granddaughters, Vice President Kamala Harris' purple ensemble fit for Prince, and poet laureate Amanda Gorman's bright yellow coat paired with a red Prada headband were highlights of the event. 
But it was an image of Senator Bernie Sanders wearing a thick parka and brown knit mittens that stole the show. The senator, and now fashion icon, was sitting socially distant in a folding chair with arms and legs crossed. Washington photojournalist, Brendan Smialowski, took the photo of Sanders.
That photo has gone viral since the inauguration on January 20th. People have been photoshopping the picture into paintings, famous movie scenes, and in the background of their selfies. A picture of someone getting a tattoo of the meme is also making rounds on Twitter. 
What in the world! Y'all taking this Bernie Sanders Meme too far. Not a tattoo 😂😂 📷 @1inamillkee @copperheadtattooparlor pic.twitter.com/TE3hqh6SOM

— TheShadeRoom (@TheShadeRoom) January 23, 2021

The meme has even become a new version of the game "Where's Waldo?" with people hiding several tiny pictures of Sanders into a picture and trying to find them all. 
Jen Ellis is behind the cozy couture. She teaches second grade in Sanders' home state of Vermont, outside of the city Burlington. Ellis sent Sanders the pair of mittens on the campaign trail after he lost the Democratic presidential nomination back in 2016. 
The mittens first got attention when Sanders debuted them at last year's Women's March in Portsmouth, New Hampshire. 
Since Inauguration Day, Ellis announced on Twitter that she is out of her mittens after receiving thousands of requests to make them. 
Thanks for all the interest in Bernie's mittens! It truly has been an amazing and historic day! I'm so flattered that Bernie wore them to the inauguration. Sadly, I have no more mittens for sale. There are a lot of great crafters on ETSY who make them. -Jen Ellis,

— Jen Ellis (@vtawesomeness) January 21, 2021
Her "smittens" which are half mittens and half sweater are made out of wool sweaters and lined with fleece from plastic bottles. They're both fashionable and eco-friendly. 
Sanders' official campaign store has taken advantage of the meme by putting it on their Chairman Sanders Crewneck and giving 100% of the proceeds going to Meals on Wheels Vermont. The sweatshirt has sold out in all its sizes and will take from four to eight weeks to be received according to the site. Even the Burton jacket that he wore sold out in all its colors. It's safe to say people are planning their Halloween costumes early. 
Even though Ellis is all out of these now-iconic mittens and all of Sanders sweatshirts are sold out, there are several other shops and sites that are selling these eco-conscious mittens as well!
Rachael Shaw, owner of My Mittens of Vermont, has also gained attention for her recycled sweater mittens after the Bernie meme took off. Her mittens are made of recycled wool sweaters, sometimes scarves, with natural lightweight fibers such as cashmere and shetland wool. On her website's home page, there is a message from Shaw about the traction her shop has gained after people were on the quest to find mittens like Bernie's.
I am honored and overwhelmed by all the interest in recycled sweater mittens a la Bernie's!  My stock is basically sold out but I am happy to create mittens for you in the next months, – her website stated.
In an interview with NBC5 News, Shaw said that she shipped out seven pairs of her mittens the day after the inauguration. Only three pairs of mittens are remaining on the site but Rachael is ready to make more!
These upcycled gloves from the Peapack Mitten Company are both functional and fashionable. Mother and daughter team, Roberta and Maggie Hummel, hand make each mitten of 100% recycled wool sweaters with vibrant and unique handmade designs.
The Artful Mitten is an Etsy store run by shop owner, Carrie. She incorporates style and sustainability to create a range of accessories like ear warmers and cashmere neck warmers. But like many other recyclable mitten makers, the mittens have become their big-ticket item. Carrie updated her Etsy announcement on January 23rd to thank Bernie Sanders for his unintentional fashion statement.
I will be adding more mittens to my shop as often as every other day to keep the shop stocked during these busy times! (Thank you Bernie Sanders!)
Mountains Handmade is another Etsy store. Based in Russia, shop owner Adele's knitwear accessories have gotten her over 2,000 sales on the website. Her organic wool gloves and mittens are in high demand. Mountains Handmade uses only sheep wool and mohair (fabric made from the hair of the Angora goat) from their own farm to make their gloves and mittens. With each sale, 10% goes to help children's hospitals where they buy items like diapers, toys, and books.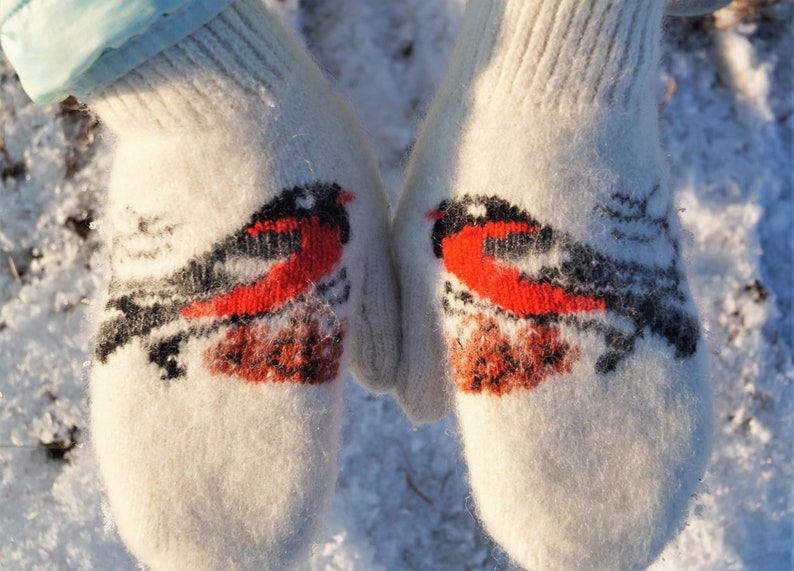 Located in Maine, Jack and Mary Designs also repurpose sweaters into a range of items like scarves, hats, and skirts. Their fleece-lined mittens are warm and comfortable and come in enough designs and patterns to pick your favorite. They even have specialized mittens for driving that are made up of wool sweaters and a microsuede palm. You can also turn your old sweater into mittens with their "Memory Mittens" customization feature.
Baabaazuzu prides itself on having one-of-a-kind designs. Each mitten has a quirky design. Instead of both gloves having matching patterns, the mittens are color-coordinated. These handmade mittens come from Lake Leelanau, Michigan by co-founder and CEO, Sue Burns.
Organic Basics started off only selling men's underwear. This Danish company has become a leading brand for sustainability, making everything from hats to leggings. They are aware that the fashion industry has miles to go when it comes to being eco-friendly but that doesn't mean it's not possible. The materials that Organic Basics use are recyclable, natural, or biodegradable. Their winter gloves are made of 100% recycled cashmere that would've been thrown into a landfill. 
---
Writer: Deidre Redhead