If you're anything like the rest of us, you've been eagerly awaiting the Friday night arrival of Wandavision's weekly episode. The episodes are carefully crafted, taking us through a sitcom-style episode from each decade beginning in the fifties. These episodes have given us some serious style envy — don't you just wish you could hop into those sets? The clothing is especially vibrant, even in the black-and-white episodes. Here are our favorite vintage-inspired looks from Wandavision. [Spoilers Ahead]
01 Wanda's 60s Ensemble
It's fitting that this episode is the one in which Wanda discovers she's pregnant, because this outfit embodies mom chic. The all-red ensemble is reminiscent of Wanda's actual Scarlet Witch ensemble, yet perfectly 60s cool. We love the cardigan and the monochrome look! 
02 Wanda's Groovy 70s Look
Okay, this one is my personal favorite. Given that this episode is the first one fully in color, this outfit was made to show it off. Though this dress is again borrowing from Wanda's brand as the Scarlet Witch (see the red trim and stripes), the blue in the look is a reference to the fact that her brother Pietro is about to make an appearance (Pietro's look is classically blue). Wanda's hair is absolute goals, and the peekabo overlay of the dress makes the look. We love 70s styles!
03 Wanda's 80s Mom Style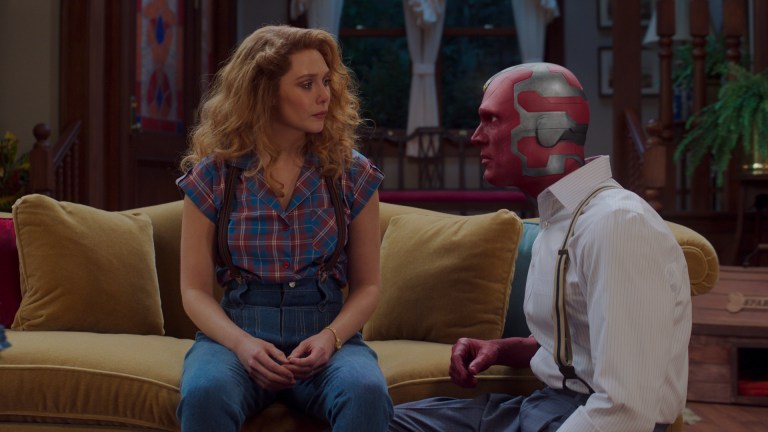 Let's be clear, the suspenders make the outfit. But the rest of the look is impeccable– I would wear this as an everyday look. The mom jeans are a central part of the outfit, and this look makes it easy to see how much we've been able to incorporate the 80s into our modern looks. Now just to bring back Wanda's beautiful, big 80s hair! 
04 The Scarlet Witch Reinvention
While the Scarlet Witch has been one of my favorite superheroes for a while now, her new costume is literally to die for. Embodying her power as the Scarlet Witch, this costume is simply badass. The purple undertones of the look seem to tie back to her heritage as an actual witch, while the blue represents her brother Pietro's costume and the red her title as the Scarlet Witch. The cutouts at the top even pay homage to Vision. This has to be one of the best looks from the series.
Wandavision is one of the most unique superhero movies next, and it has us all excited for what Disney and Marvel have planned next. Here's to hoping Wanda gets to have a part! 
---
Writer: Libby Maack