With two highly successful albums within the last year alone, Taylor Swift has hardly spent a moment out of the spotlight. I'm not here to argue that she's perfect or not mainstream or that her music possesses some wholly original quality, but there is one irrefutable fact– her style has become a marker of a special mix between alternative and mainstream culture. Cottage-core-inspired teens love her new music for its indie-pop aspects and her style for its woodsy charm, yet she still manages to retain many of her fans from her days spent singing in a fake Southern accent. This has mainly to do with her ability to change genre–pop, alternative, country, even a version of Bad Blood which features Kendrick Lamar– with ease. Regardless of your opinions on the singer, her ability to appeal to everyone– to be a "mirrorball," as she puts it in one of her more recent songs– has preserved her spot as a member of the celebrity fashion spotlight for years. Despite her years spent amidst the rumors and hate of cancel culture, her multiple genre changes, and her eternal feud with the Kardashian-Wests, her style continues to influence even the most uncommitted of fans. 
With that being said, however, her most recent style is the most different from her glitzy outfits of days past, seeming to define a new Taylor entirely changed from the curly-haired young country singer who entered the music world so many years ago. With two albums recorded entirely separate from her songwriting team, Taylor's style seems to reflect this sort of lowkey lifestyle she's adapted. For instance, her first-ever surprise album Folklore features a stylized black-and-white moody photo in which she's walking through the woods in a long coat. Her second pandemic album, Evermore, features a second coat, this one plaid and brightly colored in order to take advantage of the album's colorful cover.  Can we incorporate a toned-down, thoughtful style change as seamlessly as Taylor blended the transition from bubblegum pop to melancholic prose? Yes– we absolutely can. The key lies in buying several statement pieces, blending them into what you already own to define a new "era" of your own.
Here's a guide in how to layer like Taylor, creating a look uniquely your own while still paying homage to the greatness of her last two albums.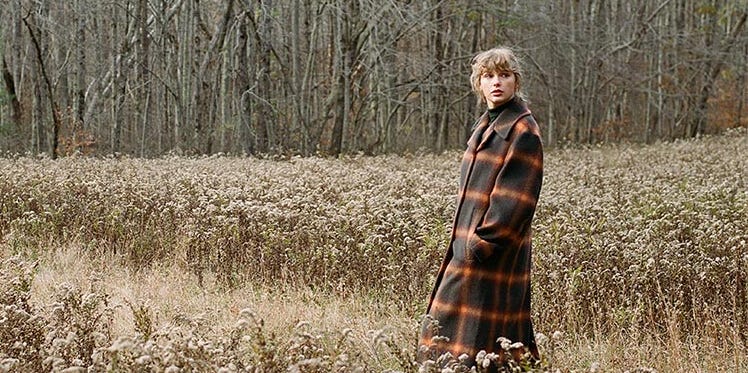 Anyways, as I mentioned before, there is no Evermore or Folklore without this iconic plaid coat. There's plenty of options for these sort of long coats, but the trick is Taylor's oversized look, making it more grandpa-chic-esque than preppy college student. She's also paired the look with a dark turtleneck, an essential to her moody appearance. In this look, she combines cottage-core with dark academia, creating an image unique to this album and her own distinct image. To recreate this look, try Gap's Plaid wool coat:
Madewell's Windowpane Elmcourt Coat in Insuluxe Fabric achieves the same type of large plaid we see in Taylor's jacket, but a little less busy:
This lack of intense pattern gives you lots of room to layer– try a turtleneck like Taylor, or maybe pair it with a sweater vest and t-shirt for a truly dark-academia-inspired look. We love her melancholic aesthetic– listen to one Evermore song, and I promise you anything you'll be on the same page.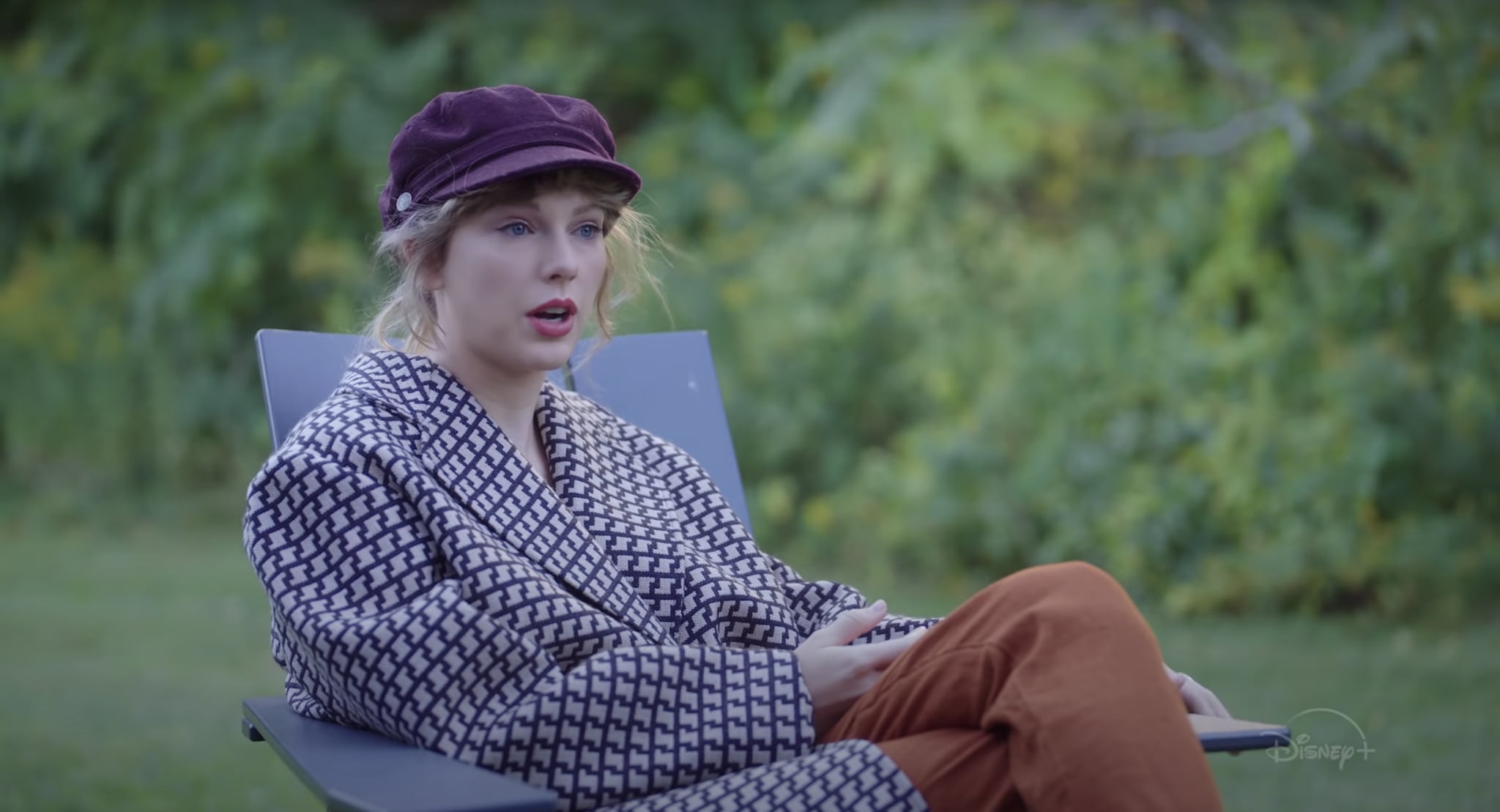 I promise, though, I'm not just going to talk about the coat (probably had you worried for a minute there). Taylor's certainly stayed out of the spotlight more than usual this year due to COVID, but her Disney+ feature "Folklore: The Long Pond Studio Sessions" featured a rather iconic outfit– a purple pageboy hat, complete with yet another long coat and loose orange trousers. Though when I first saw this hat I was haunted by images of Britney's 2007 meltdown, it's grown on me. Take a page from Taylor's book and mix it up with a daring look in an otherwise professor-like outfit with a statement hat or other large accessories. Again, this is a great thing to look for while thrifting– try Goodwill Outlets for smaller pieces like this! For an everyday look, try pairing this pageboy hat with a graphic tee layered over a turtleneck, with some black jeans to go along with it. 
Match Taylor's look:
Finally, we really couldn't talk about the Evermore/Folklore era without at least mentioning the Willow music video. The fairy vibes, the Romeo and Juliet fantasy– we love it all.
Though I would love to wear a long cloak-like she does in the middle of the video, that's not exactly a practical look for the every day–so let's look at one of her more, shall we say, normal looks. The wedding dress aesthetic, the vintage lace, the crossbody fit– can it get any dreamier? This type of dress, particularly with its deep V and subtle details, is an ideal layering pick. A black turtleneck underneath a dress like this, or a leather jacket layered on top– swoon. Try these for a similar look:
Yes, I acknowledge that it would be absolutely stupid to go through this entire article without mentioning the iconic cardigan. While the TikTok famous Taylor Swift cardigan holds its merits, especially for the devoted fangirls, it's not exactly the most versatile of pieces. I love Taylor's focus on oversized clothing, however, so let's take a look at some cardigans you could wear on a more regular basis. This cream version  would pair nicely with some pageboy hat action or perhaps some plaid pants:
In short, these essential layering pieces will allow you to transform your winter look without sacrificing too much money or resorting to products that will fall apart before you know it. Plus, you'll be emulating the iconic looks of a singer whose work and fashion alike has managed to stay relevant over decades. What more could you want?
---
Writer: Libby Maack