Oh, snap!
It's been 18 years since the hit Disney show That's So Raven premiered.
The show featured the adventures of Raven Baxter, played by Raven Symoné, as a teenager with psychic abilities. Every episode, her premonitions put her in predicaments as she figures out what led to the vision she sees. And in true Disney fashion, her friends and her family were always there to help all while keeping her secrets under wraps. What was with Disney Channel having teenagers having a secret identity? Ahem, Hannah Montana?
Audiences fell in love with Raven's character over the show's four years run. She was a captivating and charismatic persona, on and off-screen, making her one of the Disney it girls of the 2000s.
At one point, That's So Raven was the highest-rated program on Disney Channel during its initial run. The love that people had for the show lingered long after it ended. There are countless gifs of that face Raven makes when she gets a vision and her signature catchphrase, "Ya nasty," still gets used today. Or the fact that if you were to yell, "Boyz, we are the Boyz N Motion," someone would finish the lyric with "We give you our devotion!"
Disney even created a spinoff of the show in 2017 called Raven's Home. The sitcom focuses on Raven and childhood best friend Chelsea, both divorced mothers, raising their three children in an apartment together in Chicago. Raven still has her psychic abilities, along with her son Booker, who inherited them from her.
One of the most defining features of both the original and the reboot is Raven's sense of style. In Raven's Home, Raven is a successful designer, but it was in the original where we got a taste of her artistic vision and fashion creativity.
For many Black girls like myself, Raven was the staple of Black Girl Magic for us. She was authentic and assertive, without being portrayed as the "Sassy Black Woman." And to see her always be fashion-forward in every episode, was one of the biggest forms of positive Black girl representation for me. Also Keke Palmer in the savvy, but short-lived Nickelodeon show, True Jackson VP.
From teen psychic to fashion trendsetter, here are 18 of Raven's most iconic looks.
01 This snakeskin jacket is 100% Samuel L. Jackson approved
One of my favorite things about Raven's looks was the color coordination. Her colors always went well together, and this jacket and shirt combo is no different.  This wine-colored shirt pairs perfectly with the colors of her multicolor snakeskin jacket. 
02 This pink pinstripe look is definitely a home run
Pink and black is such a classic combination. Victoria's Secret bags. Poodle skirts. The cover of Beyoncé's self-titled studio album. Special occasion Valentine's Day Oreos with pink filling. This black and pink pinstripe suit and skirt combo is only as good as the pink fedora Raven paired it with.
03 LL Cool Rae
Even though this show took place from the early to mid-2000s, it's clear that some of the fashion inspirations come from the 90s. This red tracksuit and bucket combo is one of Raven's cute but casual looks. 
04 Fur Coat fantasy no.1
This is one of my all time favorite looks of the show. Her eyeshadow is the same color as the coat which is a subtle way to enhance the overall look.This longline denim jacket with purple fur on the collar and jacket cuffs is just one of the outfits that I think can make a reappearance today. ASOS, H&M, and Neiman Marcus have already hopped on the fur-trimmed coat trend.
05 * Tiffany Pollard voice* "Look at the material, you can be the judge of it."
The material in question: blue corduroy! Corduroy was a popular fabric in the 2000s that carried over from the late 90s. Kristen Bell, star of Veronica Mars, wore a lot of corduroy jackets in the 2004 hit show. But never a bright blue number like this! And the matching ponytail scarf is a nice added touch.
06 The Pinkprint
This pink, glittery bedazzled jacket is another of my favorites. Pink was a color that Raven had a lot in her wardrobe from blouses to jackets. The high neck and front buttons remind me of Michael Jackson's "Thriller" jacket. While Raven didn't repeat outfits, I would've loved to see this jacket come back around in the series. 
07 Maybe she's born with it…maybe it's monochrome
Monochromatic fashion, wearing clothes of the same or similar color, was a  big trend in the 2000s as well. Since 2018, the style has been making a comeback with celebrities like Gigi Hadid rocking it. If there was anyone to wear a light blue shirt with a silk teal midi skirt, I'm glad it was Raven. Also, who doesn't love a good rhinestone statement belt?
08 Fur Coat fantasy no.2
It wouldn't be a Raven Baxter wardrobe without pink. Or a jacket with cute fur trim. So why not have the best of both worlds? This bright pink jacket and pants set are one of the looks that is a testament to the character's iconic style. 
09 The Denim Dilemma
The verdict is still out on whether double denim is okay. Some say that it's better to wear different shades of denim to prevent that 90s boy band look, but others say that wearing the same shade isn't the worst fashion sin to commit. However you choose to style the trend: Nobody quite pulled off denim like Raven. Her denim jackets were never plain! They were either lined with fur or expertly or expertly detailed along the seams and this flower embroidered jeans jacket is no exception. 
10 Raven Baxter, International Woman of Mystery
Before Emily in Paris, there was Raven. And not Paris, either, the Tipton Hotel in Boston. This was one of Disney's famed crossover episodes where the characters of That's So Raven and The Suite Life of Zack and Cody crossed paths. This French-inspired outfit with a black tuxedo blazer with the red tie and beret was a look perfect for this episode of her working in a new fashion line. 
11 If you stay ready, you don't have to get ready (period)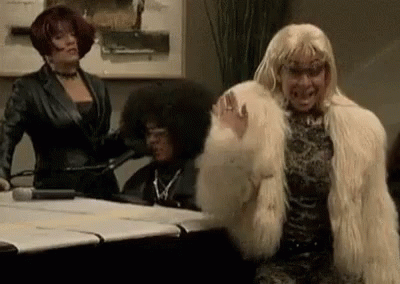 Raven was no stranger to making costumes. So to be in the room where her vision would play out — without getting recognized — would require elaborate disguises. Raven dressed up as a fictional pop singer, Liz Anya, to convince the restauranteur to give her father his job back. The embellished bodysuit, sunglasses, and white fur jacket are reminiscent of a 90s Lil Kim look complete with the blond wig.
12 Green with Envy
When I was younger, I wanted this dress so badly. I thought it was the most gorgeous dress in the world. This green cowl-neck dress with pink flowers was not only a memorable look in the series but among early Disney shows because it tackled the unrealistic standards of the beauty industry. After the magazine photoshopped her body to look thinner, Raven chose to model the dress in person at the fashion show, saying that "People come in all shapes and sizes and they're all beautiful."   
13 Save the Last Dance
Raven didn't wear a lot of dresses on the show, but when she did they were mostly for special occasions. This was the dress Raven wore for her prom night. The pink tulle prom dress with the pink lace shawl was a classic prom look during this time. 
14 Too Cool for School
Raven's creative license has no bound. When the principal creates a mandatory uniform policy, Raven takes it upon herself to reinvent the uniform. Red fur, embellishments, a wallet chain. She went all out on changing up the classic uniform look, even though it landed her in detention.
15 Fur Coat Fantasy No. 3
This red fur jacket with a rose hair clip is another one of my Raven favorites. Every now and then, Raven shows that she's not only great at putting together outfits but accessorizing as well. In number #7's monochrome look, she also wore a white flower accessory to break from the blue on blue look.
16 Slither Back into Snakeskin
I mean, do I even have to explain how great this look is? The red snakeskin print with the red jacket is by far one of her bolder looks. And the matching print on the notebook? "She's an icon, she's a legend, and she is the moment."
17 Guy Fieri's Flame Shirt, but Make It Fashion
Not everyone could pull off the looks that Raven did. Even though we might look at several of her outfits and absolutely cringe, we have to admit that back then we thought this was the height of fashion. But even today, these boot cut, flame embroidered jeans still are. Bootcut is a fashion trend that's been slowly coming back while flame print made its debut in 2020. How fitting. These jeans proved how much fashion risks Raven took with her looks.
18 Yup, that's her!
Last but certainly not least, the outfit of the show's opening sequence. This is probably one of the show's most well-known outfits. The orange coat with the blue fur is a great color combination and a forever iconic look from the character. 
---
Writer: Deidre Hannah