A friend told me recently that, since the gift-giving season is over, what little of the festivals and various events were held this year, are to shut down and close in a matter of days, if they even stayed that long to begin with. And that means that, once again, he's gonna be trapped at home, with nowhere particularly entertaining, amusing, relaxing, breathtaking or awwww-inducing to go. So, for the sake of him and his entertainment, I decided to search and see if there's truly no place to go and nothing left to see. 
Starting off with the hottest hub for the holidays gifts – here's a cue for those still looking for presents for St. Valentine's. Wink wink.
Founded in April 2008 by Jonathan Butler and Eric Demby, Brooklyn Flea has grown into one of New York City's top attractions, operating flea markets every weekend throughout the entirety of winter that features hundreds of top vendors of furniture, vintage clothing, collectibles and antiques, as well as a tightly curated selection of jewelry, art, and crafts by local artisans and designers, plus delicious fresh food.
Though the Brooklyn Flea is open every Saturday in DUMBO only, you can enjoy its outdoor brother-in-arms – the Chelsea Flea, which has everything mentioned above and a nice addition of fresh air. A little note: Flea's Winter Market makes holiday shopping in the city joyous and enjoyable — really, truly.
Up next, we have not just an event or a destination, but, rather, a whole experience – presenting to you Bank of America Winter Village at Bryant Park. There you'll have a chance to go skating on the ice rink and indulge in old-fashioned winter snacks before exploring the Village's holiday shops. A European inspired open-air market, it showcases artisans and craftsmen from around the world. Located along Bryant Park's allées and terraces, the Holiday Shops are housed in custom-designed, "jewel box" kiosks, so that everyone can enjoy local crafts, artisan provisions, and exquisite gifts from around the world.
View this post on Instagram

Now, let us get artsy, shall we? The first destination on the list is going to be "Not Another Second" – an exhibit, narrating the lives of 12 LGBTQ+ elders through a series of portraits that tell many of stories of living through a time when being themselves was, quite literally, a crime. This exhibition also celebrates their personal journeys on deciding to live openly, as well as finding love and companionship. Each moving portrait is accompanied by the number of years lost living in the closet and not as their true, authentic self. Due to health regulations, a reservation must be made to attend "Not Another Second" in person. The exhibition started at January 19th and will run all the way through March of 2021, so don't miss out!
Speaking of missing out – there's one thing no one will be passing by this season. The Metropolitan Museum is celebrating its 150th anniversary this year, and in light of all of those years of history left behind, the Costume Institute is building up a gigantic project of "About Time: Fashion and Duration" – that is dedicated to fashion's relationship with time.

The show explores how fashion's history is both linear and cyclical: On the one hand, nothing is more representative of and speaks louder for a particular period of time than the clothes being worn at the said time; yet, on the other hand, fashion itself often turns its head around to look to the past for inspiration. And so, the Met reaches into its vast collection to explore how fashion often moves forwards by moving back. As visitors take off on a journey through time and space, they'll see time-inspired designs by Cristóbal Balenciaga, Gabrielle Chanel, Christian Dior, Tom Ford, Hubert de Givenchy, Marc Jacobs, Norma Kamali, Donna Karan, Helmut Lang, Karl Lagerfeld (for Chanel), Alexander McQueen, Yves Saint Laurent, Viktor & Rolf, Gianni Versace, Vivienne Westwood, and many, many more big and loud names we're so used to hearing yet never stop to think about the history behind.
Now that we've immersed ourselves in times and spaces, let's talk about light. Specifically, Getting immersed in the vivid, saturated and dramatic stained glass works of Brian Clarke, who has been one of the world's most prominent stained glass artists, when visiting "Brian Clark: The Art of Light". An immersive exhibition of more than 100 works of stained glass, compositions in lead, and related drawings will showcase the British artist as one of the most important artists working in stained glass, at once a leader in new technology and a brilliant aesthetic innovator. The centerpiece of the exhibition will be more than twenty free-standing, glass screens. Animated by changing light and stained with exuberant, saturated colors, these dramatic works will transport audiences to the very frontier of what is possible in stained glass today. The exhibition runs throughout both February and March, ending on March 24th, 2021.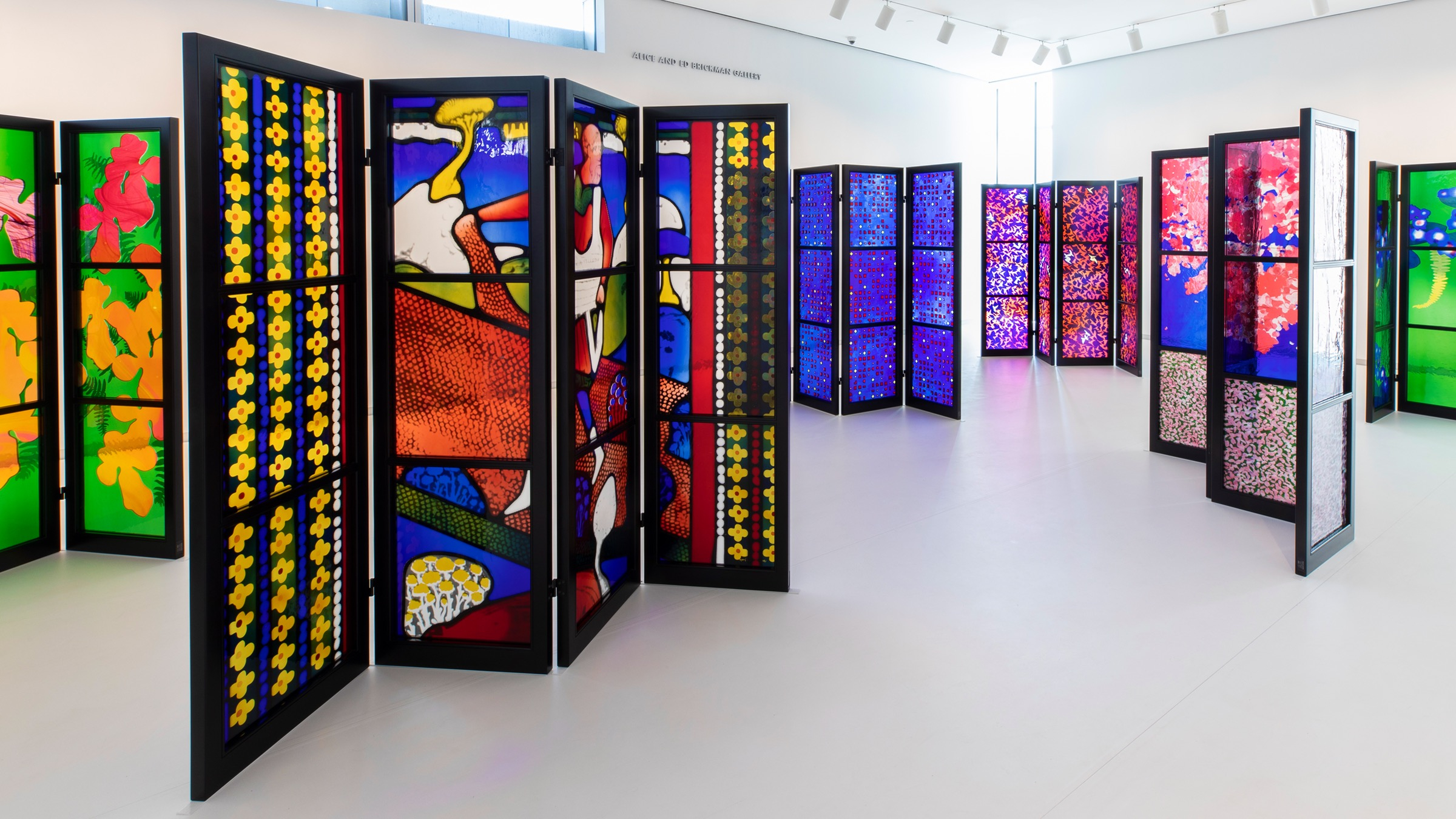 To wrap up this unprecedented year, ARTECHOUSE is inviting us to its latest multimedia exhibit – the "Celestial". Classic Blue, according to Pantone, represents peace and tranquility. The new installations seek to do the same, centering our thoughts and fostering resilience. Drawing on the color blue's inspirational qualities, "Celestial" takes visitors on a "journey beyond the skies". This technology-powered, multi-sensory installation transcends space and time — pushing the limits of our imagination and opening up a new realm of possibilities. 
While I understand wanting to get out and indulge in new experiences, I also understand that, for some, going out, for whatever reason, is simply not an option. But you can get artsy from your home as well: by joining the rest of a wide audience for the fourth edition of Animation First, FIAF's wildly successful festival celebrating the artistry of French animation. Presented entirely online, the Festival will stream across the US from February 5–15, reaching its broadest audience yet. This year, FIAF is honored to welcome special guest, the one-and-only Wes Anderson, who has selected a few of his favorite animated films for the Festival. The festival, in turn, will open with a bang with the US premiere of "Calamity Jane", a feminist western about the early life of legendary Wild West figure Martha Jane Cannary. The film's director Rémi Chayé will join the festival for a special behind-the-scenes discussion. An affordable $20 pass provides access to the entire 11-day Festival including more than 75 US and NY premieres of feature-length and short films, works in progress presentations of highly anticipated films, a new US and French student film competition, LIVE talks with acclaimed filmmakers, interactive graphic novels, augmented and virtual reality programs, and more. Films will have English subtitles and all talks will be in English.




If you feel like it's a bit too much artistry and would want to have some actual fun – how about going out skating? I know I've already mentioned the Winter Village at Bryant Park as a skating spot, but how about a few more interesting places? I mean, it's winter! Which means the ice rinks are still open! The Wollman Ice Rink in Central Park is open daily from 10am, the Rink at Rockefeller Center is open daily from 8:30am, and the rink at Bryant Park is open from 8am. And, to top it all off, The "Vale Rink", opened for the first time last year, is located on the 23rd floor rooftop of The William Vale in Williamsburg, Brooklyn, and has breathtaking views of the Manhattan skyline. Can you imagine skating casually all the while having the entirety of NYC in the palm of your hand? Incredible. 
Now, all that's left to do is grab something delicious and spend a pleasant evening somewhere, am I right? I have suggestions for both propositions. I don't know about you, but this season, I didn't really get to feel the magic of the holidays, the bubbly sparkly air that just seems to fill your lungs with joy and make you smile out of nowhere.
So, I went in search of a fairytale, a miracle, something that would make me feel like magic all over again and in spite of the holidays being over. And let me tell you, I found just the place! Steamy Hallows: Magic inspired holiday cafe pop up just screams magic and wonder and… yes, a little of Harry Potter owl enchantment.
View this post on Instagram

But hey, what can I do? Those stories are instilled in me so strongly along with all the flavors or marvel that I can't help it. But going back to the cafe. It provides service on a first-come-first-serve basis and has had to limit the amount of visitors at a time, however, that doesn't take the magic away, not in the slightest! On the contrary, it is simply a fantastic ultimate holiday-themed, magic-inspired witchy coffee shop and liquor bar! Inside you'll find over-the-top decorations, steamy hallow cookies and a magical holiday theme and you can add booze into your coffee for just an extra $2! The magically trained barista will do some tricks that'll blow your mind – he might even light things on fire!
What was I saying before? The cozy dinner? Consider it served! Only, it's not gonna be lunch at an everyday café or even a fancy dinner with tux and evening dress at some posh restaurant, no – instead, how about having dinner and drinks served in a rooftop igloo while hosting a movie night with panoramic views of NYC? Come dressed any way you want, I swear it's not an issue! And if it sounds extremely bizarre in its most glorious way and maybe a little too luxurious – it's because it is. But it's worth the money. Just imagine: heated and cozy for those particularly chilly, truly winter nights, you can sit back and enjoy your movie in complete comfort. When you arrive on the day you reserved an igloo – and you better do it as soon as possible since the attraction is quite popular – all you have to do is let your host or hostess know what movie you would like to watch, snuggle up and start sipping that cocktail you were brought. If that doesn't sound like winter-time heaven, I honestly am out of ideas on how to please your royal highness!
---
Writer: Aurea Vero